Then . . . Dr. Ray Henkel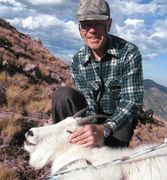 Dr. Ray Henkel, PhD in Physics and former HS classmate, with a Mountain Goat that he shot high up (13,000ft) in the Rockies outside of Denver and then butchered and packed out.
Ray and his older brother frequently hunt mountain critters at high altitude in the Rockies.